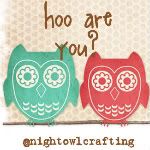 This looks like a fun meme that I will try my best to
1. Do you wear glasses or contacts, if so for how long?
Yes, I've had glasses since I was 8. I wear them
most of the time, but sometimes I wear contacts.
2. What was your favorite board game as a kid?
It's a toss up between Sorry and Thirteen Dead End Drive.
3. What is a word that you use all the time?
A word my Mama came up with actually, "inorite"...
It's the short way to write "I know, right?". LOL.
4. What is your favorite day of the week?
Sunday
5. Did you graduate high school from the town you grew up in?
Yep. I went K-12 at the same school. I feel blessed that
I never had to be the new kid at school. I always
tried to make the new kids feel welcome too.
Like I said before, this looks like a really cute meme
to participate in each week. So, if you think so too,