Now, I love it even more because of this meme, hosted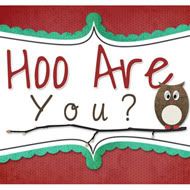 Here are this week's questions!
1. Are you married/in a relationship/single? For how long?
I'm married and have been for 2 years, 7 months and 3 days.
(I have a ticker through daisypath.com :)
*We dated for exactly 8 months before getting married. :)
2. What do you do for a living? Do you enjoy it?
Right now, I'm unemployed. And yes, I enjoy it...except for the no-money part...
3. In what state do you live? Where were you born and raised?
I still live where I grew up-- Springville, AL. Looks like I'm stuck here. lol.
4. Do you have children? If so, how many? If not, do you want them?
No. :( I want kids. J and I have discussed it and he wants 3. I want 4. :) He comes from a family of 4 kids and I come from a family with 3. It'll work out somehow. :)
5. Who is your favorite blogger to follow and why?
That is so unfair!!! It's really hard to choose just one, so I'll choose a few of my very favorites. They're all my favorites though, since I do read them every. single. day! J said, "Why do you have to read them everyday?". I said, "So I won't get behind on what's going on...". I'm nosy like that...anywho here are just four of the wonderful blogs I read:
This blog is written by the awesome Momma of 5 beautiful,
red-headed kiddos--Holly. She's funny, sweet,
antics her kids are always up to, will keep you smiling!
Una LaMarche is witty, sassy and curmudgeonly.
She will keep you in stitches; but be warned, she is
very blunt! I love her blog!!!
This comical, but very truthful blog is written by a mom
living in, as she refers to it, Mulletville, CT. It was
one of the first blogs I started following and
I love reading about all the crazy Mulletvillians!
This blog is written by a very courageous Mama of four
delightful children. Stephenie Nielson is truly an inspiration
to anyone going through anything! After surviving a near-fatal
plane crash, and being burned on 80% of her body,
she has undergone countless surgeries
and other medical procedures in order to get her body
and her life back to normal. Her story is one of courage
and determination. I truly enjoy reading about
her trials, triumphs and many, many joys!
If you think this is a cute meme, be sure to check it out
by following the link above, or just click on the
picture in this post! Be sure to link up